Zimmer Motors is JD Power Certified
As Zimmer CDJR, we have set the bar of excellence at the highest level. Choosing to give the very best customer service has allowed us to stay in business for 90 years. In the decades of taking care of northern Kentucky and the greater tri-state, the Zimmer family and our employees, past an present, have strived to be the best. In addition to earning FCA's coveted Customer First award in 2018, we have earned our industry's highest honor with J.D. Power's Dealer of Excellence award for 2019.
-Customer care is #1-
In 2017, FCA announced that it was implementing the Customer First program, rewarding dealerships that give the very best service to our clients. The criteria include:
Facility Certification- Dealership is to be clean, convenient and comfortable.
Processes Certification- Dealership successfully demonstrates processes that support excellence in customer handling.
Customer Treatment Certification- Dealership has achieved the highest levels of customer-oriented sales and service targets.
Employee Engagement Certification- Annual employee survey with results to be shared with employees, and action taken on the results.
Training Certification- Required FCA-certified training for Sales, Service, Parts departments and our technical staff.
In years past we have chosen to meet these criteria from an ownership standpoint, expecting and delivering the best care to our clients. However, we raised our game even more to earn this respected distinction among our fellow dealers nationwide.
-Excellence Personified-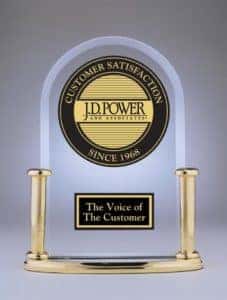 J.D. Power and Associates have been bestowing their awards for excellence for over 50 years. Upon completion of our Customer First certification, we turned our attention to taking our dealership to a degree of excellence unsurpassed by any local tri-state FCA dealers. Zimmer Motors stands alone in having achieved this J.D.Power award through rigorous testing, implementation of additional processes and expectations being met without exception.
-Our Clients Inspire Us-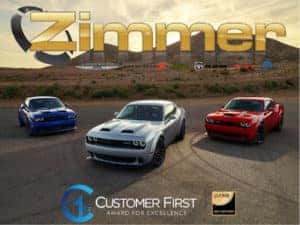 Our goal, every day, is to deliver on our promise of exemplary customer service to you. CEO Catherine Zimmer remarked that "These awards are an affirmation of how our dealership has conducted business" since 1929. The Zimmer family and our employees have delivered on this promise, to you,  for 90 years. We will continue to do so and are dedicated to earning the highest accolades available in our industry. When you come to see Zimmer Motors for any need you may have, you can be assured that the best staff is giving you the best care that can be given.